---
---
Coinbase now offers Tezos (XTZ) staking. That means you can now earn XTZ by keeping your XTZ on Coinbase!
---
Tezos (XTZ) is launching on Coinbase Pro on Monday August 5 for BTC and USD pairs. Order books will start off as transfer only for at least 12 hours.
---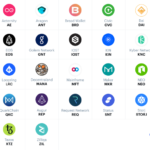 Coinbase is considering listing many different assets including ADA, XLM, EOS, and NEO.
---