Where to Margin Trade Crypto in the US
How to Margin Trade Cryptocurrency in the United States (Updated November 2023)
As of 2023, there are no major exchanges that allow margin trading of cryptocurrency in the US. However, there are other options.
One way to leverage is via equities instruments like GBTC through a broker such as Fidelity. You can also use LedgerX for options trading, or use DEX apps like AAVE + DeFI Saver or GMX, all of which can be used to create leveraged positions.
While there might be some lesser-known exchanges that claim to allow leverage to US customers, the major crypto exchanges, including Kraken and Coinbase, all either do not offer or had to shut down US-based margin trading.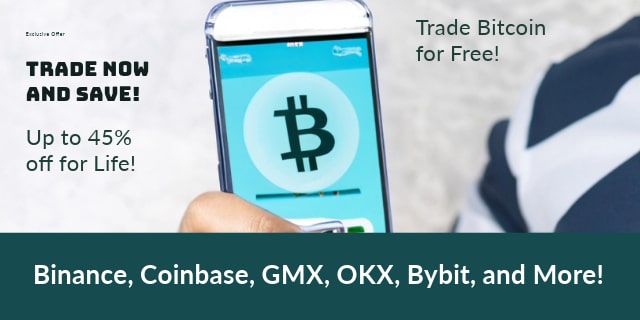 Trading Outside of the US: Kraken, Coinbase, Binance, BitMEX, and Bybit are all major exchanges that offer cryptocurrency margin trading to traders not in the US.
TIP: If you don't have any options for centralized exchanges for margin trading in the US, you can try GMX. Use our referral link to get up to 10% off trading fees when you sign up https://app.gmx.io/#/trade/?ref=CCFacts.
Margin Trading on Coinbase and Kraken
Due to legal requirements in the US, none of the exchanges are currently able to offer margin trading. However, equities exchanges don't face the same issues, and thus it allows for options and leverage on crypto-based equities. It used to be that you could trade margin on some exchanges and simply had to pass capital requirements and KYC. Capital requirements are generally based on a rule implemented by the Dodd-Frank Act that requires a margin participant in the US to be an "Eligible Contract Participant (ECP)" as defined under U.S. law (Section 1a(18) of the Commodity Exchange Act).
Coinbase offers leveraged futures trading. By trading perpetual futures contracts you can leverage long or short on Bitcoin, Ethereum, Litecoin, and XRP. Coinbase allows up to 5x leverage. You can learn more here.
Kraken offers over 100 margin-enabled markets for you to buy (go "long") or sell (go "short") a growing number of cryptocurrencies with up to 5x leverage. Kraken's margin trading criteria are relatively strict and will result in the average person needing to choose another option. With that said, you can sign up here.
Using a VPN to Margin Trade: In the past, some US citizens have used VPNs to access crypto exchanges to margin trade. However, as of 2023, exchanges have really cracked down on allowing margin trading for accounts that don't KYC. Even where they have not, they typically have reduced withdrawal limits to the extent that it makes trying to get around the rules a near-impossible task for many traders. Add to that the complications with tax reporting and other potential issues you could face, and this method is generally not advisable.
What is Needed to KYC
Part of the requirements of margin trading crypto are KYC-based. In general, you will need the following information:
Individual Accounts
Legal Name
Place of Residence
Date of Birth
ID Document
SSN
Proof of Address
Selfie to confirm identity
Source of Funds
Corporate Accounts
Entity Name
Principal Office Address
EIN/TIN
Entity Formation Documents
List of all Executive Officers and Directors
Beneficial Ownership
ID Documents
SSN
Proof of Address Document
Selfie to confirm identity
Source of Funds
Other Leveraged Trading Alternatives
For true margin, you'll have to meet the above criteria or try your hand at DEXs like GMX (check out L2 alternatives like Ooki to save on fees as well).
However, there are other solid options for leverage with much fewer criteria. CME futures, options trading products, and margins on stocks like GBTC and ETHE allow US citizens other alternatives for leverage. While each has its drawback, mainly selection and in the case of GBTC and ETHE the unpredictability of premiums and discounts, they are all viable.
While these are excellent choices, none are traditional cryptocurrency exchanges (and any exchange with margin is theoretically subject to the same minimum standards). So do keep that in mind.
Slippage and Liquidity: If you are placing big orders, make sure to look at the books. You can get some hefty spreads and slippage when placing very large margin orders. On a highly leveraged position, this can get you into trouble. So consider this when planning out trades. Also, consider BTC and ETH will have the most liquid books.