Crypto Market Cap Looks Like a Falling Wedge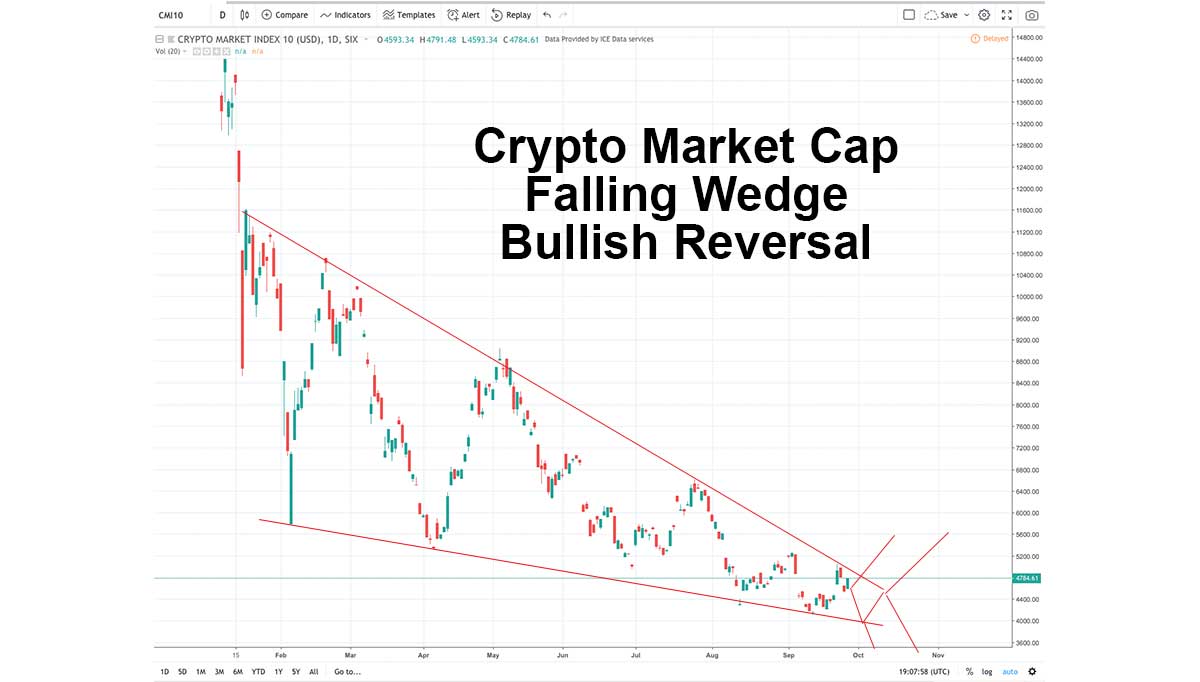 The crypto market cap, or more specifically the cap of the top 10 cryptos, looks like a giant falling wedge for most of 2018. A falling wedge is generally a bullish reversal pattern.
This doesn't mean crypto has to recover. Clearly. However, many cryptos are currently making higher lows on a small time frame while easing up to the top of their own respective wedges and/or triangles, while the market cap itself is also doing this. Meanwhile XRP and Doge have already broken out of their own wedges/triangles and crossed key EMAs.
In short, this could be a setup for a recovery form the brutal 2018 bear market, but with the overarching bear still lingering, one would logically expect actually breaking out of this wedge to be one heck of a challenge filled with stiff resistance at key points.
Right now bears are working on smacking down runs before golden crosses form, if they have even a little bit of success we could be revisiting the bottom of the wedge at any moment.
Tense times.
For another perspective, see this chart below with the big chunk of corn on it.
As you can see, that corn is eyeing all those lines like "bro, I failed geometry, what does this even mean?"
Well, it means we have a tightening pattern that we can make either a bull case or bear case for, but… given the wedge in the market cap and recent action by XRP and DOGE, the bull case I think just got a little more likely. Learn more about what that corn is looking at or read about Satoshi and the giant falling wedge.