BTC and ETH Drop Over 50% From Highs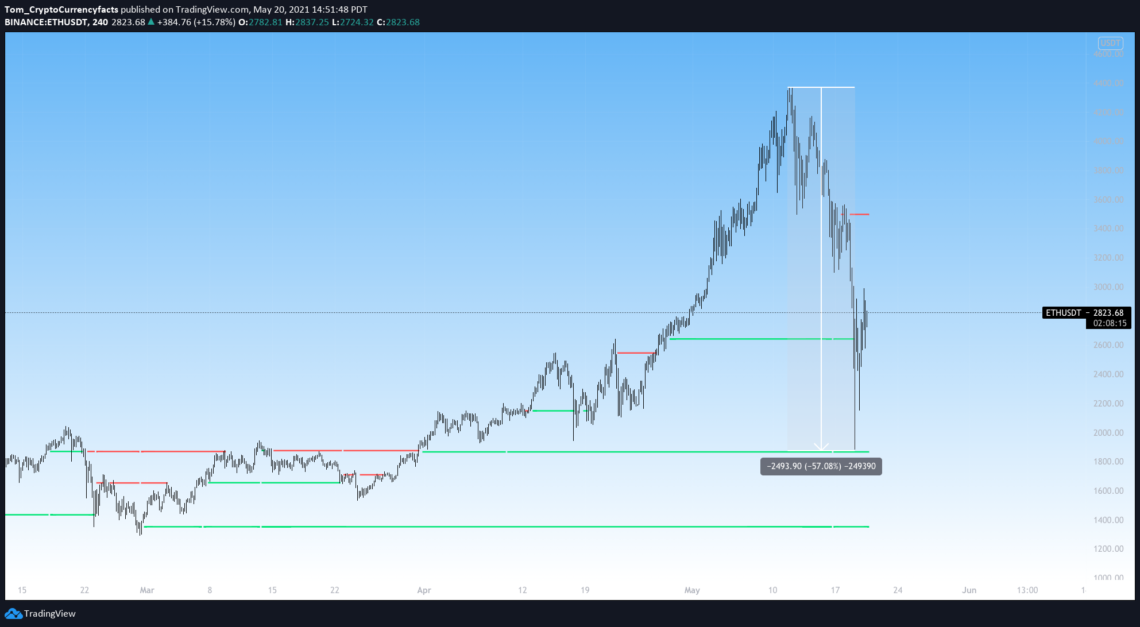 BTC and ETH crashed over 50% from their highs. That doesn't typically happen in bull markets, yet crashes like this are rarely proceeded by more immediate selling.
What happened to cause the crash was a mix of things. The leveraged long trade was crowded, the fear/greed gauge was green, alt season was in full blast with Doge clones and BSC vaporware making people rich, Bitcoin had made a lower high, and Zuckerberg named his goat Bitcoin. Any one of these factors could have caused a collapse, but as it happens, it was basically all Elon's fault for FUDing Bitcoin.
Joking/not joking.
Really it was just a bunch of factors piling up to solidify a pretty typical crypto market top and sell-off that chewed through leveraged longs all the way down to lows that few likely wanted to sell.
What we got was capitulation with the help of liquidation engines.
At the end of the day though, the whole thing was somewhat typical. Toppy pattern + FUD = death wicks and Thanos candles.
About half the time that happens we see more downside (or in some cases the start of a bear market), the other half of the time we end up with more upside. Still, most times we don't see an immediate continuation of the downtrend after a capitulation event.
Below are some, but not all past capitulation events to look at. Most very jarring at the time, some of the same magnitude (although this was somewhat of a rare case). You can get a sense that while some of these start or take place in a downtrend, some do exist in uptrends (rare), but most result in an attempt at recovery (in some cases a rather epic attempt all the way back to previous levels).
Does this mean we retest $52k before we retest $0? No one knows. But it is worth noting that it is rare that the best time to sell is right after a 55% drop.