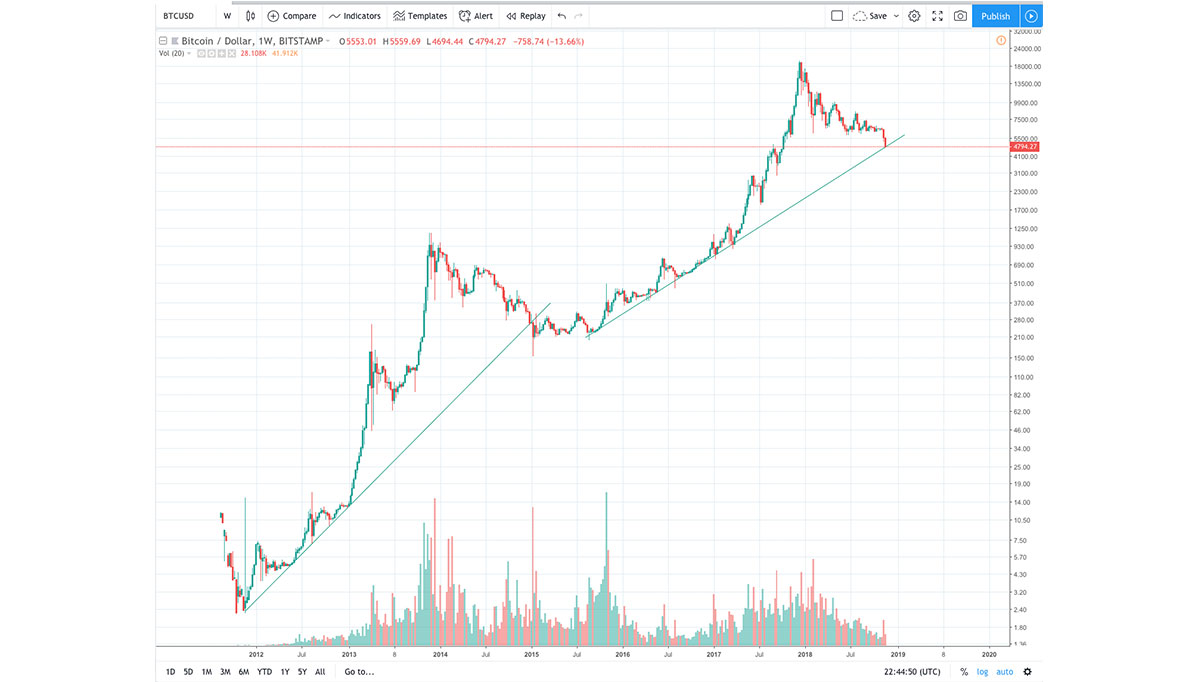 Crypto Has a Case of the Mondays
Bitcoin dropped below $5k USD making new lows for 2018. Let's look at why crypto is crashing going into the holiday.
NOTE: Look at the chart above of BTC from 2012 – 2018 on a log scale, the current pattern is still in-line with a long term bullish view. Doesn't mean it has to go that way, but it does look less scary when you look at it that way.
The crypto crash today was due to a few things piling up in my opinion; they are:
A technical breakdown of $6k USD due to weak volume and sustained testing of that support resulting in a drop to the next major horizontal support area (from about $3.5k – $4.8k as you can see on a chart; it is where the price consolidated on the way up in 2017). In sum, like most corrections, it is largely due to technical and not fundamental reasons. It's a bear market, sellers are selling support and resistance and spurring on panic. Kind of the same story all year, right?
Bitcoin Cash hash wars causing collateral damage. What could have been a fun way to get "free money" turned into an all out hash war without replay protection. Those in the war generally are causing a little chaos, plus there is potential they are unloading BTC to pay for the battle.
SEC makes its stance clear on ICOs as securities… they are securities. The SEC brought us closer to crypto having clear rules. That is important for adoption. However, that clarity has shown us that ICOs are securities, and everyone in the ICO game from July 2017 until now was dealing with unregistered securities. The implications are a double edged sword, but there is some concern those running ICOs who haven't gone at least part to dollars could have to liquidate their ETH. That is likely putting some pressure on the market.
Big tech is crashing. Some may think Bitcoin is funny money, but I think it is way more than that. Anyway, thoughts aside, the reality is the market is treating Bitcoin more like a FAANG stock right now. … And FAANG stocks are busy crashing today. I suspect tech and crypto are in a cyclical negative relationship right now, where holders in one market are holders in the other and they are spamming that sell button to take those 2016 – 2017 gains and cut losses. This is then a result of the guy who told you to buy Bitcoin and you hitting the sell button after the bears broke down both the FAANG and crypto charts. Ouch. <— is this related to the broader market and policies, sure, but let's not go there.
In sum, SEC, hash wars, tech crash, and a technical breakdown in big tech and crypto have made it a bad time to be on the cutting edge of technology as an investor (the mirror opposite of 2017 really).
That said, while it may be a bad time to be HODLing FAANGs (Facebook, Apple, Amazon, AMD, Nvidia, Netflix, Google, etc) and BLTs (Bitcoin, Litecoin, and assorted Ethereum Tokens)… we might be approaching a nice black Friday sale.
Looking at the history of tech and crypto you can see epic crashes, volatility, and then crazy bull runs. How much more crash and volatility do we need to see before the next bull run?
Maybe a lot, in fact it is safe to bet on it. When tech or crypto enters a bear trend, a downtrend, it can really be brutal. We are already here at this point, and so the winds are at our face at the moment.
I don't know the part about when a good time to buy is or timing the market, all I know is that Cryptocurrencies, GPUs, social media, streaming video, search engines, etc aren't passing fads.
Since these things aren't fads, and since they are like a whole section of our lives, I think it is reasonable to expect that at some point the low prices would attract another wave of buyers (or conversely that a rally that starts leaving low prices behind would do this).
TIP: Although most tech and crypto is hot burning dumpster trash right now in terms of price charts, a few winners can be found here and there. For example in crypto, XRP is slaying it with all the talk of Xrapid and SWIFT (where xRapid is Ripple's answer to the SWIFT network).