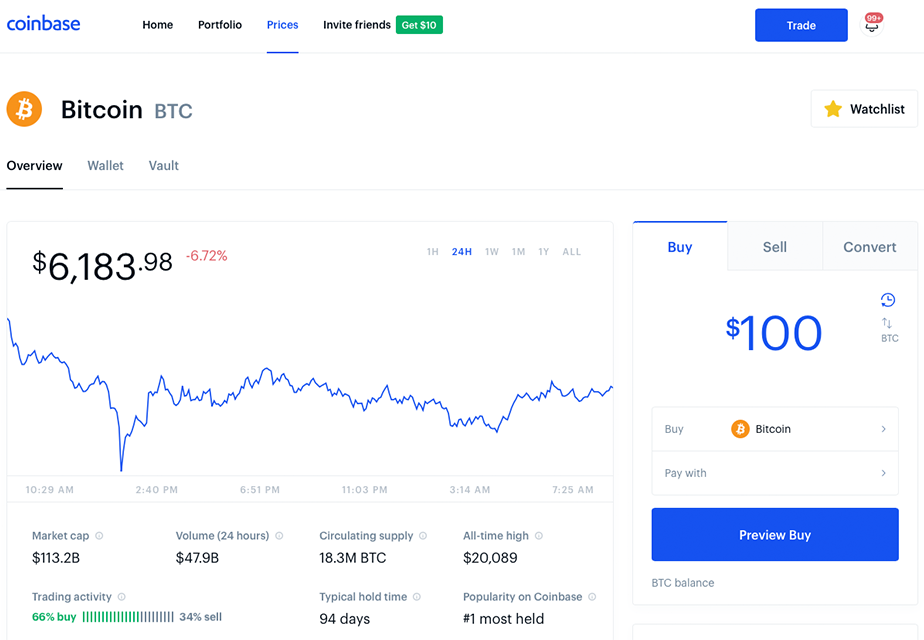 What is Coinbase? – Coinbase Overview
Coinbase is one of the more popular and user-friendly choices for cryptocurrency investors to buy/sell Bitcoin, Ethereum, and other cryptocurrencies.
If you are new to cryptocurrency, live in the U.S., and are looking to invest for the first time, Coinbase is our site's #1 recommendation hands down. Coinbase offers everything a cryptocurrency investor needs in one platform (or two if you count their sister site Coinbase Pro – formerly known as GDAX). Both Coinbase and Coinbase Pro use the same logins, and Coinbase the company runs both sites.
Coinbase is a broker, Coinbase Pro is an exchange, most crypto investors and traders will want to have an account, you can use Coinbase for almost anything you need to do with crypto, and you can get a free $10 in BTC if you use the referral link (and spend $100).
That is the basics of what you need to know, the page is details on what Coinbase is, how it works, and how to get started.
NOTE: We advertise Coinbase on our site. This is because we use Coinbase and find it to be a good first step for new cryptocurrency investors. In other words, we suggest that you use them and thus put the ad up, not the other way around. If you sign up for Coinbase by clicking Coinbase links on our site that take you to Coinbase's sign up screen (like this one for example), we both get $10 worth of Bitcoin when you spend $100. Please consider signing up by using our links if you are going to sign up anyway. Once you sign up, you too can offer people the same referral program. TIP: You need Coinbase to use Coinbase Pro. 🙂
About Coinbase the Company
Coinbase is a digital asset exchange company headquartered in San Francisco, California that provides a cryptocurrency wallet-exchange-broker hybrid service (making Coinbase and its sister site Coinbase Pro a one-stop-shop for cryptocurrency). There are only a few major crypto companies in the US that accept dollars, of those Coinbase is arguably the most user friendly.
Coinbase, the company, has three main products, 1. "Coinbase Consumer" (Which most people call Coinbase, it is the product found at Coinbase.com) where people can buy and sell Bitcoin, Ethereum, Litecoin, Bitcoin Cash, and other cryptocurrencies using dollars in a simple way, 2. Coinbase Pro an exchange aimed at more advanced users where people can trade some additional cryptocurrencies not found on Coinbase Consumer, trade using margin, and place complex order types like limit orders, and 3. Coinbase Wallet a way to store and access Ethereum-based assets and interact with Ethereum based "DApps."
In other words, Coinbase acts like a broker, providing a user-friendly way for anyone to buy, sell, send, and receive some of the top coins, Coinbase Pro acts like a traditional exchange where customers can trade those same top coins, and Coinbase Wallet acts as a multi-coin wallet and gateway into the Ethereum ecosystem.
Try Coinbase, and Then Check out Coinbase Pro
As noted above, we almost always suggest Coinbase for those investing in cryptocurrency for the first time due to ease of use (for example on our basics of cryptocurrency investing page).
With that in mind, once you get Coinbase down, we also strongly suggest doing most of your trading on Coinbase Pro.
Both platforms are run by Coinbase, both use the same logins, and they are truly built to compliment each other. Thus, we strongly suggest signing up for both Coinbase and Coinbase Pro!
Then, once you get Coinbase and Coinbase pro down it makes sense to branch out into Coinbase Wallet and other exchanges like Binance and Bittrex to expand the range of cryptocurrencies you have access to.
NOTE: We didn't create the video below, but feature it as a visual guide to buying cryptocurrency via Coinbase. See our guide below and feel free to ask questions.
Coinbase Exchange Tutorial – How To Buy Bitcoin On Coinbase
.
How to Get Started Trading Cryptocurrency With Coinbase.com (Coinbase Consumer)
The process for getting started trading cryptocurrencies is simple, but there are a few vital concepts to review (just like above, but this time applied to using Coinbase).
First, to sign up for coinbase.com.
Sign up for Coinbase.com to create a digital currency wallet where you can securely store digital currency.
Connect your bank account, debit card, and/or credit card so that you can exchange digital currency into and out of your local currency (you'll probably also want to add optional info and upload your ID to expand your purchasing limit).
Buy/Sell Bitcoin, Ethereum, Bitcoin Cash, Litecoin, and other cryptocurrencies (trading dollars for cryptocurrency and cryptocurrency for dollars).
Trade Cryptocurrency to Cryptocurrency. You can use the convert button on Coinbase Consumer or use Coinbase Pro for this.
Consider signing up for another exchange to get access to additional cryptocurrencies (you can send cryptos like BTC and ETH to other exchanges to trade, and then transfer those back to Coinbase, and then back into dollars).
Don't forget to record your transactions for the tax man and to brush up on the tax implications (I can't stress that enough).
NOTE: If you want to use Coinbase Pro, do steps 1 and 2, but then for step 3 fund your account with dollars or USDC and then move your funds over to Coinbase Pro to trade.
Important notes:
FIRST AND FOREMOST: USE TWO FACTOR AUTHENTICATION AND A STRONG PASSWORD. MAKE SURE TO ENABLE ALL SECURITY FEATURES IN COINBASE. Coinbase/Coinbase Pro is insured, but not against your account getting hacked, just against something happening on their side.
To increase your buying / selling limits, input all forms of payment possible. Please note, only some banks are supported. Yours might not be. Please note that fees are lower with a bank account, and fees are rather high without one. Given that, you should use your bank account to purchase cryptocurrency directly via Coinbase over other payment methods whenever possible.
When you sign in with your bank account, you'll need to input your bank account login. That may feel shady, but is the process (read about it at Coinbase).
If you use your bank account, you have to wait 3-5 days for your bank to approve the pairing (so you can't trade for about a week after you sign up).
There are limits to how much you can buy or sell in a week. Adding a photo ID and other payment methods will increase your limits. Otherwise your limits increase (quickly) over time as you trade.
Coinbase now has instant purchase when you buy with your bank account. CAVEAT: Not all Coinbase accounts have instant purchase. Many do at this point, but not all do.
There are fees involved with buying from Coinbase and some types of trading on Coinbase Pro (which can in cases get lower as you buy / trade more). Other exchanges have better rates than Coinbase (for example Coinbase Pro itself has better rates). However, rarely do exchanges have a better fee schedule than Coinbase Pro. In other words, when using Coinbase specifically, you'll pay a little bit more than market price (or sell for a bit less than market price) and pay a small fee when trading on Coinbase (this is a trade-off for ease of use). NOTES: To be clear, there are essentially two sets of fees when you buy with Coinbase. One is them charging you more per coin than on Coinbase Pro or other exchanges; the other is an actual fee (currently paid in crypto, not USD, so if you buy 1 Ether, you get a little less than 1 Ether but pay the market price). That is the price you pay for them doing all the work and taking the risk of the price changing quickly when you buy. Not a reason not to use Coinbase and only use Coinbase Pro every time, but it is something to keep in the back of your mind if you start making lots of buys.
Today you can use USDC (a stable coin) in place of the dollar on Coinbase in some instances. Although this is mostly something to keep in mind for trading on Coinbase Pro, it is important to note here given that you can buy USDC without a fee directly on Coinbase (and swap between dollars and USDC for free at any time). On some trading pairs you have to use USDC, on others you can't. Try buying USDC with your bank account and then swapping between USDC and USD as needed. The benefit of buying USDC and USD on Coinbase is that it has no fees (as opposed to buying cryptos directly through Coinbase.Com, which can result in fees and premiums).
To trade coins, you need to go into settings and make sure your wallets are set up (each coin has a wallet; wallets can be found under "accounts").
The benefit of a USD wallet on Coinbase is that you can put money in that and then, once the deposit clears, use it to buy coins immediately moving forward. If you try to buy directly with your bank account, the transaction can take about a week. Given this it is smart to fund your USD wallet or buy USDC and then use that moving forward to buy crypto. You'll still need to wait for the deposit to clear, but once it is cleared with your bank you can use the funds. You can buy coins on Coinbase.com via your USD wallet (just toggle to USD wallet instead of bank account when making a purchase), although you'll still pay the broker fee, and you can buy coins on Coinbase Pro using USD or USDC for low or no fees (remember, no fees for limit orders, low fees for market orders).
You don't have to buy a whole coin. You can buy fractions of coins. Whole Bitcoins can be expensive these days, so consider buying fractions of a coin to start if you don't have a big bankroll. It has historically been a mistake to buy only other cryptos because BTC costs more. You need to think of which one will increase in and retain value, buying all three in equal $ amounts (and ignoring how many of each coin that amounts too) is one way to avoid making the wrong choice based on price tag per coin.
When you buy a coin, take a breath and review the information. An extra decimal place can mean big money considering a single Bitcoin can trade for over $4,000.
Sending cryptocurrency to other users is easy with Coinbase. You can send to the email address of another Coinbase user, or you can send to an outside address. Just make sure to review the information carefully. You can't reverse a transaction if you send to the wrong crypto address!
Download the app. This lets you trade cryptocurrency from your phone. The market is volatile; transactions are slow. When it is time to buy or sell, you need to do it ASAP.
Set alerts. Alerts can help you decide when to buy or sell.
There is a feature that lets you buy incrementally over time. Averaging in a position on a weekly basis is a solid conservative move that Coinbase will automate for you.
Cryptocurrency is volatile! There is always the chance that the market will crash, or that you will face some other catastrophe. Cryptocurrency isn't a centrally controlled and regulated fiat currency. If you lose a coin or someone cheats you, there is nothing you can do about it (which is why you want to have 2-factor authentication set-up).
Coinbase Tips
Below are some additional helpful Coinbase tips.
In general, most advanced users will prefer Coinbase Pro to Coinbase: You need Coinbase to use Coinbase Pro. With that said, once you get your feet wet with Coinbase, you'll likely want to use Coinbase Pro for almost everything for which a novice would use Coinbase. Coinbase Pro is more intimidating, but having the ability to set limit orders and avoid Coinbase's fees makes Coinbase Pro more profitable for many investors. Buy and Sell fees on Coinbase are at least 1.43%; on Coinbase Pro they can be as low as 0% (for maker fees). So get on Coinbase, fund your USD wallet, and buy a few coins. However, consider using Coinbase Pro for the bulk of your trades. In short, if you can understand the complications involved in using Coinbase Pro (a Coinbase product), then save yourself fees by using it. As mentioned above, since you need Coinbase to use Coinbase Pro, and since you'll still find yourself using key Coinbase features like their APP when on to go, we'd appreciate it if you click this link and get your free $10 when you sign up and fund your account.
Remember Funding an Account Takes Time: It can take over a week to fund your Coinbase/Coinbase Pro, and they share limits. A benefit of Coinbase is you can buy cryptocurrency at the market price plus a fee before your account is funded. To use Coinbase Pro you have to wire or bank transfer money to your account first. So Coinbase has one thing over Coinbase Pro, immediacy for new users. I use Coinbase when I see a good price and don't have access to my desktop (which Coinbase Pro runs on) or when I don't have funds in Coinbase Pro (because they are tied up in trades) but want to make a buy immediately.
Coinbase is for investing, Coinbase Pro is for Trading: Coinbase is a broker and wallet, Coinbase Pro is an exchange. In general, and in this case, a broker will charge higher fees, because they are doing some of the work for you. Paying fees keeps life simple, but at a cost. If you want to be a trader, and if you want to avoid fees, you should learn to use Coinbase Pro. On that note, see the next comment for avoiding fees.
Avoid Fees With Bank Deposits, USDC, and Coinbase Pro and Avoid Wait Times with Wire Transfers: If you use "Coinbase Consumer" (the one found at Coinbase.com or accessed via the Coinbase app) to buy cryptocurrencies directly, you will pay a fee. To avoid fees, fund your USD wallet (or the equivalent if outside the US) or buy USDC (a stable coin) on Coinbase.com (or through the app), then send that to Coinbase Pro. When you place limit orders on Coinbase Pro you don't pay a fee, if you place market orders, your fee is still lower than it is on Coinbase Consumer. If you want to speed up the deposit process (it can take about a week for funds to clear), make sure to do a wire transfer when you select the deposit option for USD (or your country's dollar). On that note, see our guide to not paying fees when you use Coinbase (it is a thing, and it is worth figuring out).
Bottomline: Coinbase (sometimes called by its proper name Coinbase Consumer) is going to be most U.S. crypto investors' starting point and it'll be their hub for years to come. Coinbase works as a wallet, broker, and more. With Coinbase you can trade dollars for cryptos, trade crypto to crypto, and send crypto to other exchanges and wallets. That is everything you'll need to do in crypto trading and investing essentially. Make sure to check out other Coinbase products like Coinbase Pro, an exchange where you can save money on fees, and Coinbase Wallet, a multi-coin wallet that also works as an Ethereum wallet for accessing DApps and storing Ethereum tokens.
"Coinbase" contains information about the following Cryptocurrencies:

Bitcoin (BTC), Ethereum (ETH), Litecoin (LTC)