Coinrail Hacked; but It Likely Didn't Effect the Market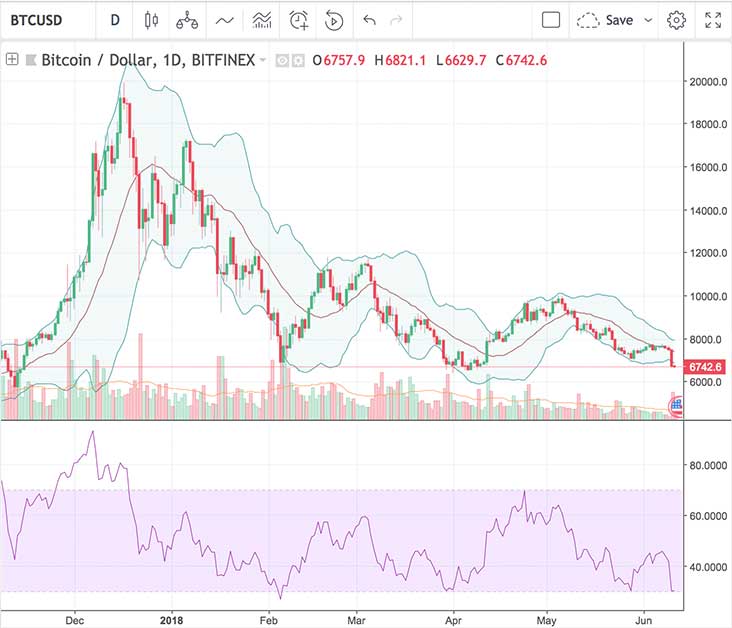 A somewhat obscure crypto exchange called Coinrail was hacked Sunday. The Media generally reported that this caused the $1k drop in Bitcoin this weekend… but many in the crypto community beg to differ.[1]
The crypto community (from my casual observation of comments on Twitter, blogs, and other online media) has generally concluded that Bitcoin fell for technical reasons and that at best the Coinrail hack was used as an excuse. Bitcoin's chart looked like it could break up or down, trading volume was low, the price was stagnant, and we were sitting at a key level (where a breakdown meant bearishness and a breakup was nice and bullish). It broke down with the help of bears, there was a sell off, and the sell off stopped when the daily RSI hit the oversold level. Everything that happened was very technical and speculative.
Mystery solved.
It isn't that a $40 million Coinrail hack isn't notable, it is. It is that this exchange has very low volume for most top coins and logically it wouldn't have had a big effect on Bitcoin (see Coinrail volume). If you told me Pundi X's price dropped due to the hack, I would believe you, as that random coin has volume on that exchange. But Bitcoin with only $32k volume in 24 hours on that exchange. Thus, I don't see how there could have been a substantial impact. That volume is almost irrelevant.
The only morals here are 1. when Bitcoin's price moves, it tends to make big moves. 2. When a market is bearish or rather "50/50," a bit of bad news can go a long way. 3. People are always looking for a "why," but sometimes the "why" is purely technical (we don't always need a story to explain price movement in a speculative market).
Feel free to Google "Coinrail hacked" if you want to hear theories about how Coinrail is somehow connected to the last price drop. I don't buy it, despite the fact that it is indeed some newsworthy news. 🙂
NOTE: Look at the chart above. See how this last structure was almost exactly the same as the last one. Well that is mostly what happened. Bulls took over for the first part and formed their pattern, bears took over for the second part and formed their pattern… and now we are back where we started. "Yay!" That lots of things, but the result of a hack is not one of them.
Article Citations