Bitcoin is STILL a Falling Wedge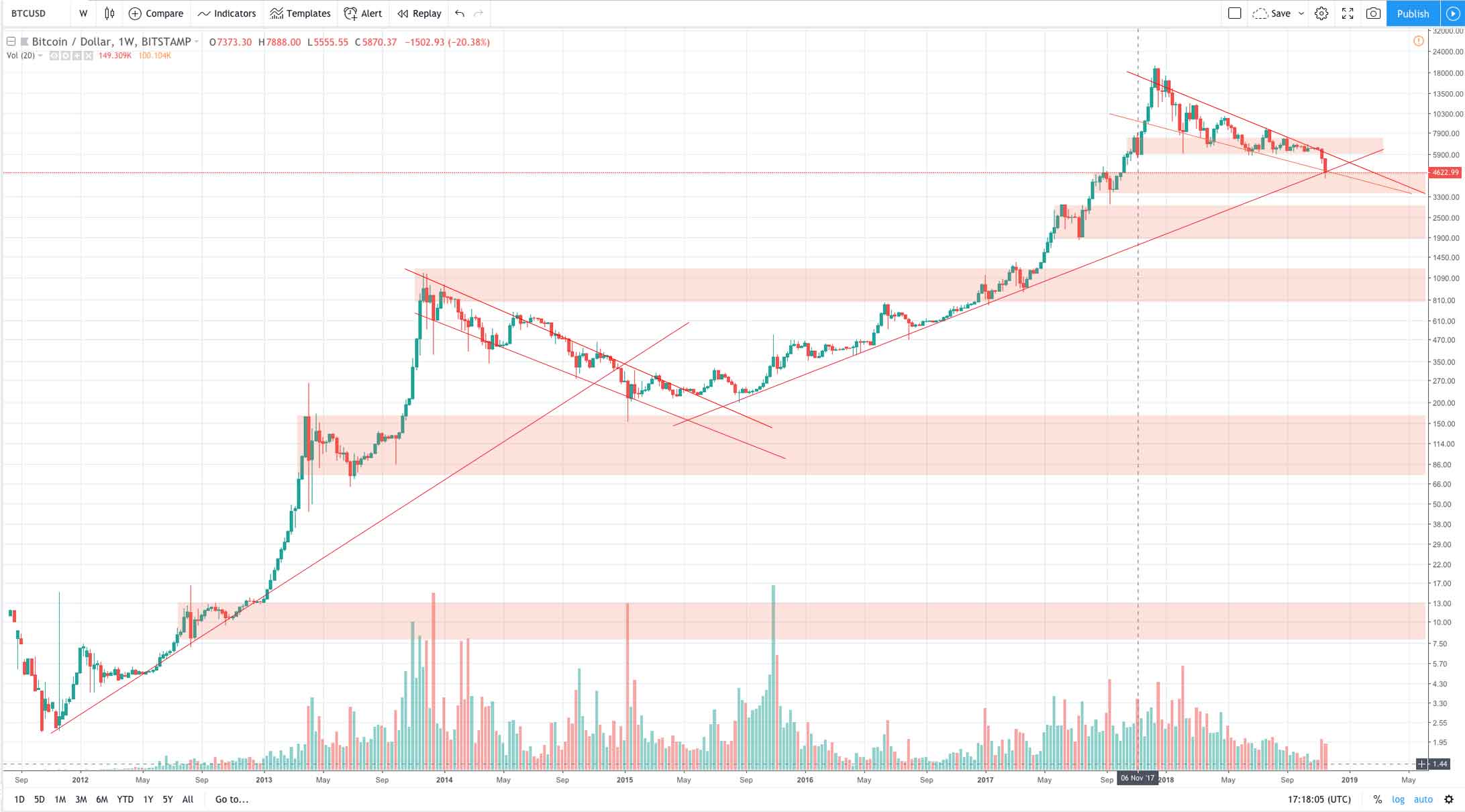 Bitcoin has been forming a falling wedge pattern for most of 2018. It looked like that pattern was breaking, but looking closely a the chart the wedge still looks intact.
A falling wedge is a trend reversal pattern, where if things go well a breakout to the upside (or side and then upside) eventually occurs and results in a switch from bear market to bull (to be super clear we are in a nasty downtrend in an overarching bear market and mostly have been for all of 2018; so don't read this as bullish, just read it as educational and informational).
The switch from bear to bull doesn't have to happen on a quick time frame, and frankly a good deal of losses could occur in between, so that is important to stress for anyone applying these patterns to their own chart analysis.
Still, for now there is still some reason to be hopeful as 2018 is almost done, the falling wedge is intact, and the very long term uptrend is still intact as well.
This doesn't mean trying to catch a falling knife has suddenly just become a good idea. It is only to say that these are the patterns I'm looking at (the trend lines, the wedges, and those boxes which is where there is substantially horizontal support in terms of price action and trading volume… including those lower boxes).
How did we stay in this falling wedge so long? Essentially you can redraw the wedge unless a really substantial trend change occurs. If we drop to, for example, $3.5k by next week, we could just adjust the line. Drop enough or go up enough however, and the wedge goes away. So you can't just redraw forever, but there is a good amount of leeway since we are looking at it on higher time frames and are looking at such a large pattern.
NOTE: I started writing about the wedge back in August. We never broke out of the wedge, and instead we drifted toward $4k with a solid drop to the bottom of the wedge after riding along the top (as you can see in the chart above).