How to Use Binance Chain if You Can't Use Binance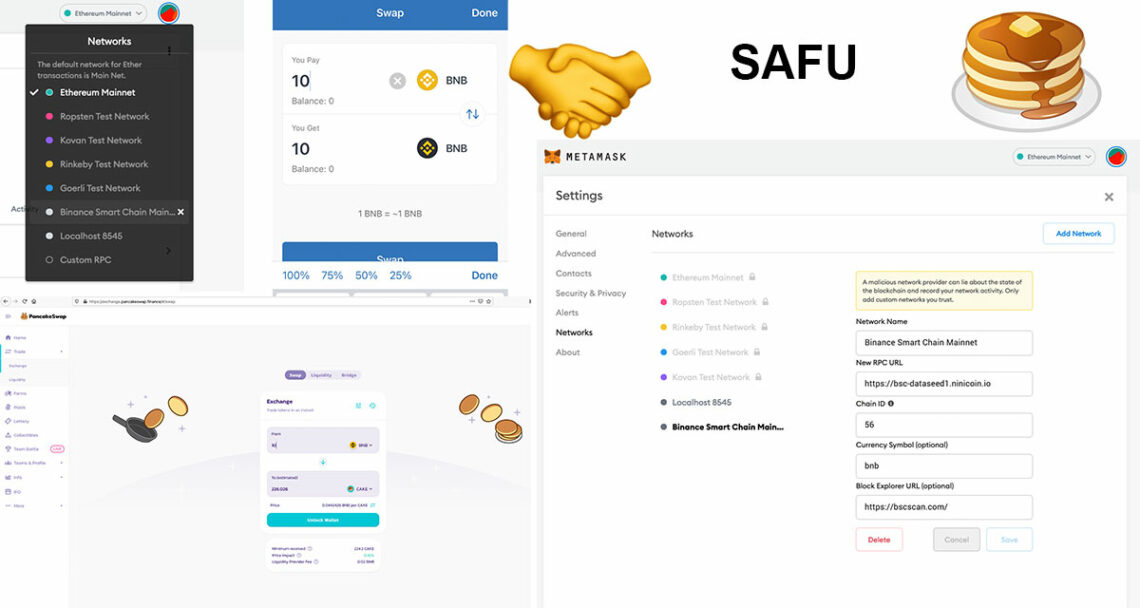 How to Use Binance Smart Chain (Even if You Can't Get BNB From Binance)
We explain how to obtain BNB and use Binance Smart Chain even if you can't access Binance to get BNB. For this guide we will go from BTC to BNB using KuCoin, BNB to Binance Smart Chain BNB using Trust Wallet, and then from Trust Wallet to MetaMask to trade on PancakeSwap. This will be done using the following steps.
Using Binance.US: You can use Binance.US instead of Coinbase and KuCoin. This is a good solution if you can use Binance.US and don't want to use KuCoin. Simply get BNB on Binance.US and then proceed to follow the rest of the guide start at step 4.
Using Binance Bridge and Other Solutions: There is more than one way to go from ETH or BTC to Binance Smart Chain. This guide simply presents one way that will work for everyone using only established platforms. You can also use Ethereum to Binance Chain bridges, but they will require BNB or access to Binance, and thus don't solve our core problem.
Using Trust Wallet and Not MetaMask: Some people (people with Android and Windows devices) can use TrustWallet and won't need MetaMask. Since not everyone can do this, the guide doesn't focus on it. If you have a Mac or iOS, you have to use MetaMask.
What is Binance Smart Chain? It is basically Binance's Etehreum network. Instead of ETH you use BNB, otherwise, if you know Ethereum you'll feel right at home. Even the addresses start with 0x they are so similar. Thing is, you can't send ETH to Binance Smart Chain or BNB to Ethereum, so you'll need to follow some steps to go from one network to the other.
Best Practices: Never ever share your private key, only use your public address. Do small test transactions every step of the way. Binance transactions are cheap and fast, so it won't cost much to take a few extra minutes to make sure everything is working. Also, please use best practices for keeping passwords safe, keep your keyphrases safe, write down your pins, etc. 🥞
Obtain BTC. For example, buy it from Coinbase. You can also pick any coin that exists on Kucoin and Coinbase for this step. You can also use any other exchange for this step. I'm using BTC and Coinbase for this example. TIP: You can also start with ETH, sell it to USDT on KuCoin, and then follow the rest of the steps. You may decide to do this if you have ETH on MetaMask and want to use Binance Smart Chain.
Send BTC to Kucoin. Kucoin has no KYC for small accounts, but be aware even though US citizens can use KuCoin, US citizens can't KYC on KuCoin. I suggest keeping withdrawals under $10,ooo of value every 24 hours if you don't plan to KYC. Although I think the current official withdrawal limit for no KYC is 2BTC. Clearly, the risk here is that rules change, for now, it works like this and has for a while.
Trade BTC for BNB on KuCoin. If you have to swap to USDT or BTC first because you picked another coin to send to KuCoin, go ahead and do it.
Send BNB to Trust Wallet. IMPORTANT: You must send BNB to a BNB wallet (orange icon; addresses start with bnb) and not a BNB Smart Chain Wallet (black icon; addresses start with 0x), if you send your KuCoin BNB to a Binance Smart Chain wallet you will lose your BNB on this step.
Swap BNB for Binance Smart Chain BNB using Trust Wallet. Use the swap or trade button to do this in the Trust Wallet app.
Create a Binance Smart Chain wallet on MetaMask and add the Binance Smart Chain network. Install the MetaMask extension if you don't have it already, create a new wallet or restore an existing one, go to settings and add the Binance Smart Chain network (or simply go to PancakeSwap and hit 'connect' while in MetaMask to get a prompt to add the Binance Smart Chain network; you can swap between the Ethereum main net and Binance Smart Chain main net using the toggle switch at the top right hand of the wallet… you'll use the same address, but different networks for Ethereum and Binance Smart Chain).

Network Name: Binance Smart Chain

New RPC URL: https://bsc-dataseed.binance.org

Chain ID: 56

Symbol (optional): BNB

Block Explorer URL (optional): https://bscscan.com

Open up PancakeSwap, 'connect' your wallet, and trade your Binance Smart Chain BNB for another coin. PancakeSwap is basically Binance Chain's Uniswap. If you already know how to swap on DEXs and LP and farm, you are good. Have fun and don't forget to sell to BUSD (stable Binance dollars) when you are one. If you don't know what I just said and think the above is a lot of confusing steps, you may want to consider sticking with ETH and learning more about DEXs and farming before diving into DeFi on Binance, as many of the projects are more established (even if transactions are more expensive).
TIP: You need BNB to do Binance Smart Chain transactions. So just like with Ethereum, you always need to keep a little BNB in your Binance Smart Chain wallet.
TIP: When you send back to Trust Wallet, for example to cash out at some point, don't forget you have to send back to the Binance Smart Chain wallet before swapping to BNB. Always look at the address. 0x transactions only go to 0x, Binance Smart Chain only to Binance Smart chain. Never Binance Smart Chain to Ethereum, and never 0x to BNB. You need to trade these pairs, you can't send/receive from other networks!
Get $5 in free Bitcoin when you sign up for Coinbase.
"How to Use Binance Chain if You Can't Use Binance" contains information about the following Cryptocurrencies:

Binance Coin (BNB), Bitcoin (BTC), Ethereum (ETH)